Welcome to Express Auto Recylers
Late Model New and Used Auto Parts
Located in LaVergne, TN, Express Auto Recyclers is a full service new and used auto parts facility and a proud member of Team PRP. We offer clean, late model recycled parts. Express is a local, privately-owned company that has been serving the middle Tennessee area for over a decade. We operate out of a state of the art facility and offer a green and affordable alternative for your auto parts needs. Express has an extensive inventory on-site at our 10 acre facility. If we do not have the part you are looking for in stock, we have access to over 3 million parts in our PRP database.

In addition to quality used OEM auto parts, we also offer Remanufactured, OEM surplus, and Aftermarket product lines.

We offer superior Standard and Extended Warranties, so you can have the added peace of mind that when you purchase a quality part from Express, we are going to stand behind it

We offer FREE local delivery and ship via UPS and Freight nationwide.

CALL OUR SALES DEPARTMENT TODAY: 1-866-793-3277

Search for your Part
You Need It We Have It.
All of our parts undergo a stringent Cleaning and Quality Control before they leave the facility. Being URG 8000 Certified, Express upholds the highest in industry standards in quality and safety. We offer the ultimate green solution to all of your parts needs. We purchase vehicles from insurance auctions, sell the parts that are in good condition, and recycle the remainder of the vehicle. Express drains and disposes of all hazardous fluids from the vehicles we process in accordance with state and federal regulations. 95% of the vehicles we process or either reused or recycled, leaving only about 5% to be disposed of in a landfill.

We are proud to sell a full line of Remanufactured Engines & Transmissions.

Ways to Recycle with Express Auto Recyclers
Express Auto Recyclers offers pick-up service for all end of life vehicles in addition to paying top dollar for late model automobiles. Please call 615-793-7571; press 3 then enter extension 4312 for quotes.
Express Auto Recyclers offers top prices for end of life vehicles by value buying through our Express Scrap Metals retail purchase system. Please call 615-793-9994; press 1 for pricing or press 3 to speak to a buyer.
Store Hours
Express Auto Recycling
Mon. - Fri. 8:00 am - 5:00 pm

Mon. - Fri. 8:00 am - 4:30 pm Big Scale
Mon. - Fri. 8:00 am - 5:00 pm Small Scale
Sat. 8:30 am - 12:30 pm
Mon. - Sat. 8:00 am - Dusk
Sun: 8:00 am - 5:00 pm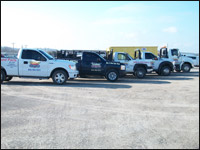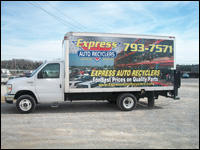 Proud Members of: